Our Facilities
OUR BUILDING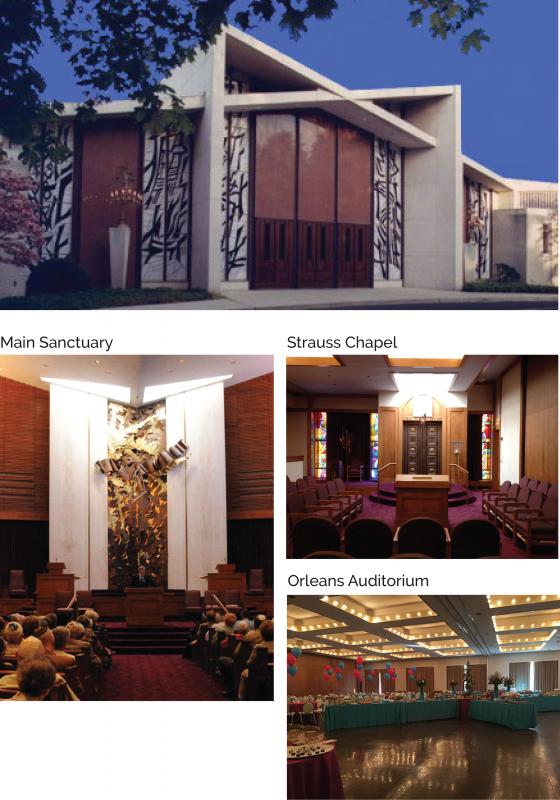 First constructed in 1964, the Adath Jeshurun Synagogue building features many spaces ideal for learning, prayer, celebration and community gathering. With multiple features including ramps leading to the bimah, large-type prayer books, and earphones for the hearing impaired, it is a truly accessible structure. Our inviting spaces include:
The Main Sanctuary — used for High Holy Days and Shabbat services, as well as special occasions. The remarkable sculptures at the front and rear of the Sanctuary capture the prime theological themes of Creation (the Ark Doors by Albert Paley), Revelation and Redemption (the facing panels by Zigi Ben-Haim).

The Strauss Chapel (adjacent to the Main Sanctuary) — used for daily minyan and Kabbalat Shabbat, as well as for summer Shabbat services. The Chapel incorporates elements and materials from AJ's previous building at Broad and Diamond Streets, as well as from the Daroff Chapel which occupied this space before its renovation in 2001.

The Orleans Auditorium (adjacent to the Main Sanctuary) — used for additional High Holy Day service seating, as well as for wedding receptions, dinners/dinner dances, and Shabbat Kiddush luncheons. The Orleans has the ability to be one or two separate spaces. The auditorium can also be rented as a meeting space during the week.

The Sanctuary Foyer (Main Lobby)— a light open space that can be used for cocktail receptions, small Kiddush luncheons, or Oneg Shabbat receptions.

The Braemer Auditorium (lower level) — used for congregational and community meetings. Additionally, the Braemer Foyer is often used for small group gatherings.
Our building features many spaces available for use to both members and non-members for meetings, celebrations, and events. For more information, call the synagogue office at 215.635.6611.
Sun, September 24 2023 9 Tishrei 5784