AJ Acts
UPCOMING EVENTS
Kehillah Event: A Conversation About Robin DiAngelo's Book,
White Fragility: Why It's So Hard for White People to Talk About Racism
Thursday, November 12 at 7:30 PM (via Zoom)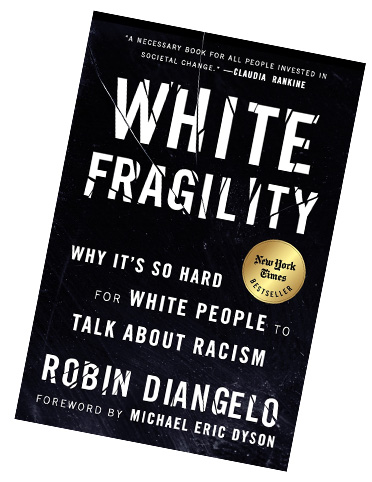 Join a discussion about race with the OYR Kehillah's Social Action Committee. The New York Times best-selling book White Fragility explores the counterproductive reactions white people have when their assumptions about race are challenged, and how these reactions maintain racial inequality. Arlene B. Holtz, Ph.D. and Barbara McNeil, J.D. will be the facilitators. The book is available through Amazon. Click here to register.
Signs of Solidarity
Adath Jeshurun's social action committee, AJ Acts, has launched Signs of Solidarity to express our rejection of the injustices that are systemic throughout our country and which have been brought to the fore by the murder of George Floyd in Minneapolis on Memorial Day. Please sponsor the placement of a lawn sign along the Old York Road corridor, or purchase a sign (or signs) for yourself, your neighbors, and/or friends by clicking here. Thank you for supporting Signs of Solidarity. Any profits will be donated to Project Home.

You can see a video of the signs along Old York Road here!

NEW! We now have magnets for your car that read "Love your neighbor as yourself"! They are $5 each, or 3 for $10. Buy them for your family, friends, and neighbors. You can order one or more magnets here!

Read Rav Shai's June, 2020 letters about the campaign: To the Congregation and To the Old York Road Corridor Clergy
---
In these challenging times, many of us know the imperative and have the urge to find a way to help others. AJ Acts, AJ's Social Action Committee, has compiled a list that includes both some hyper-local worthy causes, as well as more global initiatives that could use your support in one way or another.
Initiatives Focused on Hunger Insecurity and Support for Frontline Workers in AJ's Area:
We checked in with The Mitzvah Food Pantry at Beth Sholom. Stuart Warsetsky, who volunteers to oversee the operation there, let us know that their immediate needs are for money and back-up volunteers who can cover for some of regulars who may be more vulnerable to contracting COVID-19. They are specifically looking for volunteers under 60 — ideally a family unit who has been isolating together so they can effectively work together in close quarters. For more information and to volunteer, contact warsetsky@gmail.com. You can donate via credit card through Beth Sholom's web site, and be sure to indicate in your note that it is for the Mitzvah Food Pantry.
Laura Frank shared these resources. Laura does a lot of work around hunger insecurity in both her professional and volunteer life, and is a font of information on where we can put our energies. Here are some of the organizations that are helping pay local restaurants to provide meals to health care workers:
University of Pennsylvania Healthcare System Initiatives
If you are interested in supporting University of Pennsylvania Healthcare workers on the front lines during this crisis, you may make a donation to their Employee Assistance Fund.
Through the University of Pennsylvania Healthcare System, we can support neighbors in need who have been impacted socially and economically by COVID-19:
Some of the other ways to support Penn Medicine and its teams during this crisis are outlined here.
Initiatives That Are More Global
Marjorie Shribman and Judy Izes listened to a Webinar in which HIAS, Jewish Council for Public Affairs (JCPA) and MAZON: A Jewish Response to Hunger discussed the impact of the pandemic on the people they serve, and they then shared how we can help. Here is a link to the event that happened already, but on the right side of the web page are pertinent blog posts.
Some other worthy initiatives are listed on Repair the World's website.
Mon, April 19 2021 7 Iyyar 5781